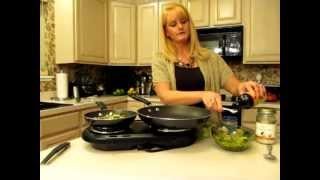 Today I share my HCG version of what reminds me of "Chicken Egg Foo Young" and Asian inspired sauteed cucumbers ( I do mix my veggies on P2.) Here is what I used & the estimated calories of 141 calories. In the video I said 123 calories, but I recalculated & it's closer to 141 cals. These are just estimated amounts & calories, but I try to be as accurate as possible. I hope you enjoy!
First squeeze out the water of thawed frozen spinach & use approx. 60g (approx 1/3c) & combine with 120g.egg substitute ( 1/2 c.) or you could use egg whites, 28g (1oz) cooked diced chicken, 17g of green onions (approx 2), 1/2 tsp. minced garlic, 1/2 tsp.'fresh ginger', 1/2 tsp.Bragg Liquid Aminos, dash of salt & pepper, stir ingredients then make into 5 patties in your frying pan, I do use a little coconut oil to fry. Brown both sides & serve.
For cucumbers I used one large cucumber approx. 400 grams, cut out the center & season for a cold salad. Saute the remaining cut cucumber in a little coconut oil (optional) season with seasoning of your choice. I sprinkled with Mrs. Dash Garlic & Herb Blend, Bragg Liquid Aminos, Salt & Pepper to taste. I like to cook them until lightly browned but still crunchy.
Here is the approximate calorie break down:
Spinach= 14cals, Egg Substitute= 60cals, 1oz cooked chicken=approx 22cals, green onions= 5cals, 400g cucumber =40cals Total for meal approx 141 calories not including the coconut oil or seasonings.
You can also make them with more of a Mexican flair by switching out the seasonings with cumin, garlic & cilantro. Then top with a little salsa & plain greek yogurt. (optional).
"Chicken Egg Foo Young", P2 friendly if you mix veggies, HCG Diet

Great Advice On Getting Proper Nutrition
Is your doctor, family or significant other pressuring you to make changes to your diet? What you eat plays a huge difference in your overall physical and psychological health. You don't have to be bored with learning about basic nutrition. You can introduce a variety of new foods into your life by making simple tweaks to your diet! The advice in this piece will illustrate how you can allow better nutrition in your daily life.
Try and eat foods in their natural state whenever possible. Fresh foods that have not been processed offer the best nutritional content and contain fewer chemicals and fats.
Everyone needs to consume enough fiber. Fiber can help you manage your weight since it can keep you full. You can also lower your cholesterol levels. More fiber can reduce your risk of getting certain types of cancers, heart disease, and type 2 diabetes.
The stealthy way to eat better is to sneak nutritious ingredients into your regular foods. This is useful if your children are picky eaters, but sneaking healthy ingredients into your own food works great, too. You can add nutrition to meals by adding dry milk to your baking, or you could shred carrots into spaghetti sauce. You will be able to get them to eat better without them knowing.
Getting off the junk food requires some serious dedication, but it sure makes people feel good when they succeed and start getting healthy. Habits that you have had for a long time are difficult to break because you have become accustom to the taste of those foods that are bad for you. Even after a more sensible dietary regimen is adopted, it is common for people to still crave such snacks. Realize when you are craving bad foods and eat something good for you!
Keeping up with your nutritional needs is an easy way to lengthen your life span and enhance your quality of life. While it might seem elusive at times, it is relatively simple to make this goal a victory. By doing research, you're already making the first step to a healthier lifestyle and a better you!