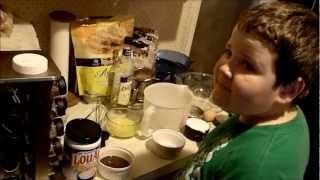 This is a combination Of MsHcggirls and My Mothers Cheese Cake Recipe
It is a great food to eat on a Fat Fast Day. I loved the fact that I could eat Chocolate and Nuts all day long and still loose weight! How great Is that. I lost over 3 pounds on the first fat fast on Cheese cake. See my video on Fat fast if you want to now more about that. You can have your cake and eat it too…. LOL. Great way to have a "Cheat day" yet not cheating… lol.
Sugar free Glutten Free
Crust: chocolate (Makes one Pie Crust)
3 Tbs. Coconut Oil (Melted)
8 Tbs. Butter
6 Tbs. Cocoa (3 Tbs. Dark/ 3 Tbs. Light)
1 cup splenda
1 cup Almond flour
1/8 cup coconut flour
1/4 cup Golden milled Flax seed
1 large egg
1 Tbsp. Davini Sugar free French Vanilla
1 scoop vanilla whey
bake Crust at 400 degrees for 10 to 12 min. (Let cool 10 min. before pour cheese cake on top.
Pie Crust: serves 8
Calories: 320 Net carbs: 9 Fat: 27 Protein: 9
Sugar free Chocolate Cheesecake
2– 8oz block cream cheese
¼ cup Smuckers Natural Peanut Butter (sugar free)
¼ cup Almond butter (sugar free)
1 scoops vanilla whey protein powdersugar free
4 large eggs
¾ cup Sour Cream (full fat)
2.5 cup Splenda
¾ cup Heavy Whipping Cream
2 Tbsp Davinci Hazelnut Sugar Free
1 cup Hersheys Cocoa (Light)
Pour this Cheesecake Mixture over cooled Chocolate Crust Bake @ 400 or 425 Degrees for
25 min.
Topping:
Mix topping with a spoon and pour on top of pie.
Cook on 400 for 10 to 15 min.
1 Pint Sour Cream
1 T. Davinci Sugar free Syrup
2 Tablespoons Splenda
Dash of Cinnamon
Chocolate Drizzle on top:
make my Chocolate Delight Recipe:
1 cup Coconut Oil
5 Tablespoons (Sugar free chocolate chips) Hersheys
Warm the chocolate chips in the Coconut oil in the microwave for 1 to 2 min.
Mix in chocolate well with a wisk.
add 8 Tablespoons Hershey Cocoa (unsweetened) (Sift it in)
8 tablespoons of Stevia or Splenda
2 T. Vanilla or hazlenut Sugar free Davinci Syrup
1 1/2 cups mac nuts or nuts.
I drizzled some of this on cheese cake to make the walnuts stick.
Then used the rest and put in my Egg candy molds to make my chocolate delight. Used
that for fat fast too. To harden just refrigerate.
Hope you enjoy…. Watch my Fat fast video…. to have a guilt free day of goodness…..
Cheese cake w/o crust:
calories: 345 Net carbs 14 Protein: 10 Fat: 27
Total: Crust and Cheese cake:
Calories: 665 Net carbs: 23 Fat: 54 Protein: 19
ENJOY!
Charms- sugar free cheese cake – Loading hcg

Healthy Eating Tips For Maximizing Your Nutritional Intake
It's nutrition time! The world of nutrition is filled with wonderful foods, vitamins, weight loss plans and more! It may seem hard to find a nutrition plan that will work in your life, though it can be done. The following suggestions may help you find just what you are looking for.
Proteins are very valuable nutrients to consume each week. Focus on fish, lean meats and skinless poultry. Eggs are a great provider of protein. Eating only one daily egg will not affect your health. Try eating a meal without meat once weekly. Instead, try using nuts, peas, or even seeds in your food.
Vitamin B-12 is very important for red blood cell production. As you age, you may not get enough vitamin B-12 in your diet. Those who have anemia also have a risk. B-12 intake can be improved by taking supplements or eating certain cereal products.
Selenium is often overlooked, but it is an essential part of a diet. Selenium is a mineral which acts as an antioxidant. It will improve the elasticity of your tissue, as well as keep your skin looking healthy. Selenium also helps to protect your skin from damage from the sun and free radicals. Some great foods with this mineral include wheat germ and eggs, among other foods.
Make an effort to show the importance of drinking water. Serve juice or milk on 1 or 2 meals and try not to offer it constantly. Filling up with juice or milk makes a person less likely to have room for important meals.
Many nutritious plans are available to help you eat healthier. Nutrition options available offer something for everybody, but you need to find what works for you, personally, because it will be different for each person. By reading this article, we hope you will begin to find the perfect plan for you!